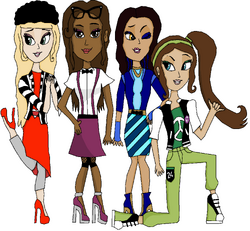 Omega Nu Zeta (ΩNZ)is a sorority which is part of Absolutely University.
Formation
Edit
Omega Nu Zeta was formed when Norah Cardew joined Absolutely University, and met the other members. They got together when Norah was not around and asked Quinn Lawson to form a sorority consisting of them. She agreed and the girls moved in, forming the sorority. 
Colour scheme
Edit
The colour scheme of the sorority is purple with white lettering.
It is the most well-known social group in the franchise as the members are all the lead characters in the franchise.
It is the only social group to be formed by request rather than staff organisation (as far as we know)
The colour scheme of the sorority is the same as the Absolutely U logo